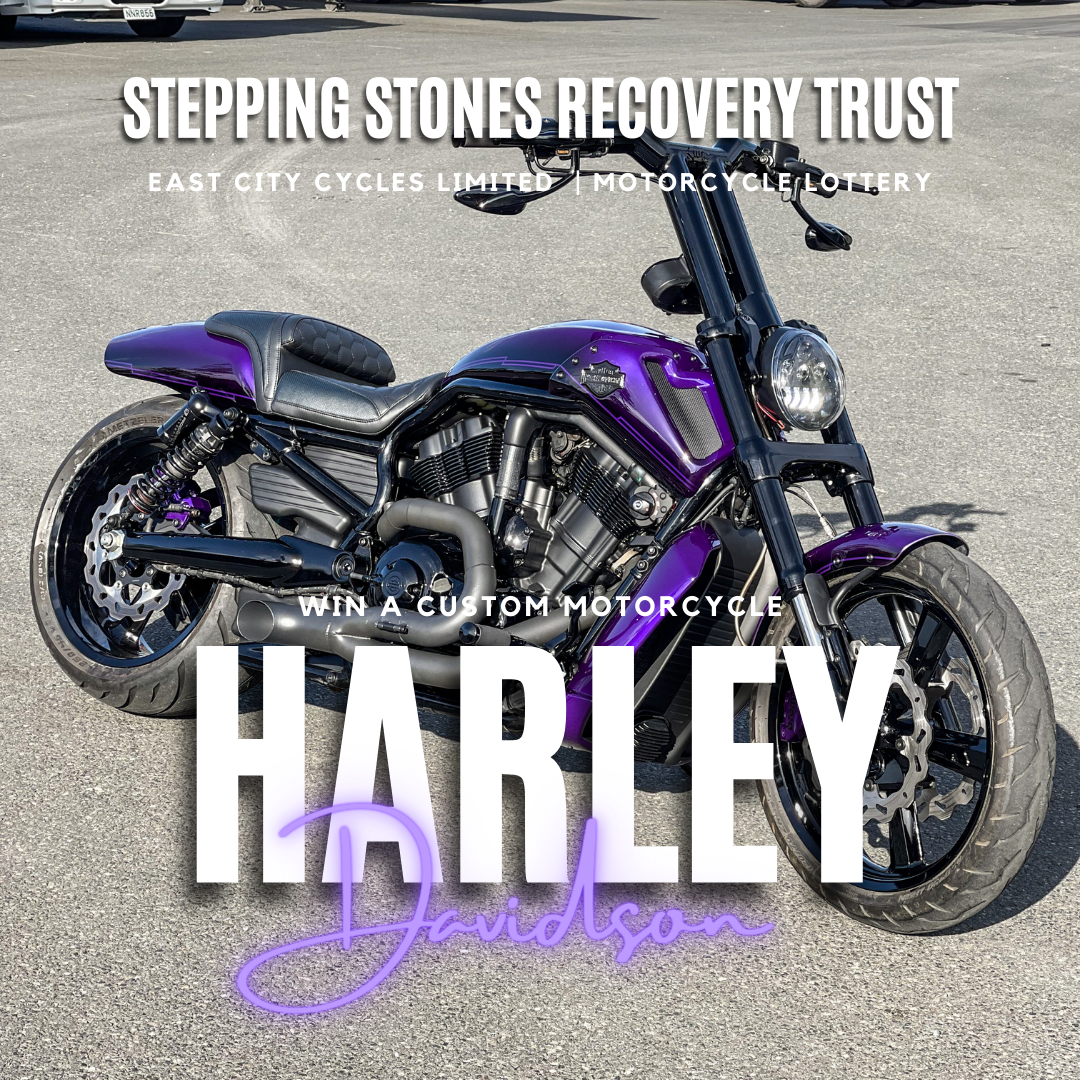 If you haven't received your ticket numbers, they will be sent to you in the next 48hrs.
Prizes:
1st: Harley Davidson - Retail Value $80,000
2nd: Harley Davidson - Retail Value $ 60,000
3rd: 2022 Yamaha yz125 - Retail value $11,500
4th: $5,000 worth of Tattoos from b.Inked_tattoo
5th: $5,000 value of 1:1 wheelie training with Kingi Walters

Be in to win one of two Harley Davidson motorcycles custom built by East City Cycles Limited, a 2022 Yamaha yz125 along with $5,000 worth of ink and some awesome 1:1 training with Kingi.
We only have 1,400 tickets and they are going to go fast.
So if you want a chance to win a brand new Harley Davidson Motorcycle, be sure to get your lottery ticket today! $150 per ticket.
When lives count on us, it's great knowing we can count on you.

The organiser of the raffle is Janet Thompson, 158 Avenue Road East, Otahuhu, Auckland 1062. Email: janet@theretreatnz.org.nz. If you have any queries, please do not hesitate to contact the organiser.

If you win a prize in this raffle, sufficient evidence of your identity and eligibility must be provided to the organiser within 3 months of being notified, so that the prize can be verified. If it is not, the prize will be forfeited and re-drawn.

The total number of tickets offered in the Lottery is 1400 ranging from 0001 to 1400 inclusive. Results will be declared by blind selection of included numbers, under the supervision of an independent witness in accordance with Rule 6 (14) of the Gambling Act (Lottery) Game Rules 2004. The draw will be held and confirmation of prize winners will be done at The Retreat NZ, 158 Avenue Road East, Otahuhu, Auckland 1062 on 5 September 2022 at 1pm. Prize winners will be contacted by telephone and email on that same day.

The winner accepts that their details and photograph may be used for publicity and/or promotional purposes. Results will be published in the New Zealand Herald on Saturday 10 September 2022, on our websites, and social media platforms and an email will also be sent to all ticket holders, notifying them of the winner.

The Lottery is conducted by Licence issued under Section 37 of the Gambling Act 2003. Licence Number LT090000190. Your name and contact details will be retained to keep you informed of future offers, promotional events or fundraising activities that may be of interest to you. You may check, update or suppress your details from our records by contacting us at Stepping Stones Recovery Trust, 158 Avenue Road East, Otahuhu, Auckland 1062. In the event of a cancellation, it will be published on our website, social media, and in the New Zealand Herald on Saturday 10 September 2022. All money will be refunded. In the event there are not enough tickets sold by the closing date, the lottery end date will be extended by a further two weeks.

To contact the Department of Affairs, please phone 0800 257 887 or write to Regulatory Services, Department of Affairs PO Box 10095, Wellington.

Funds raised through this lottery will be used for the scholarship fund to help fund an opportunity for people who really want and need recovery from alcoholism or drug addiction, and cannot afford the cost to attend The Retreat NZ or A Place To Be.

The ticket price includes GST and is transacted in New Zealand Dollars (NZD). Your lottery tickets will be issued by email.

The motorbikes are Harley Davidson bikes that will be custom-made to the retail value by East City Motorcycles Limited. Each ticket sold will be to the value of $150. Ticket sales open on 25 July 2022 and close on 31 August 2022. The date of the draw is 5 September 2022 with the last date to claim the prize winner being 5 December 2022.